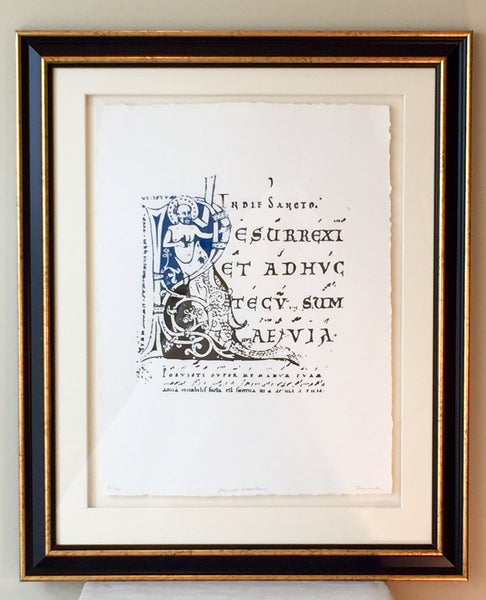 "Resurrexi - I Have Risen"
"Resurrexi - I Have Risen" Hand Printed Art Print
Description
Opening of the liturgical celebration of Easter. "I have risen and I will always be with you; alleluia..."
Medium
Showcard Letterpress (Hand inked and pressed); 2 Color; Acid Free Cotton Paper; 12x16 size
Original Artist
Gottschalk, Melk diocese Liturgy, Benedictine abbey of Melk
or Seitenstetten, Austria, 12th century
credits: art.thewalters.org
Wood Framing & Mat
Premium solid wood frames, made in the USA from North American Hardwood, sawtooth hanger included.
Each piece is set using acid free mat in a 14x16 inch frame opening. Features bottom weighted sophistication using acid-free mat board. The outer mat is raised to showcase the float mounted artwork.
Choose from the following wood frames:
Black + Gold Accent Frame - 1 1/2 inch thick solid wood picture frame featuring a black finish accented with gold. 1

4

x1

6; 

 full exterior dimensions 1

7

x

20

.

Gold Frame - Painted gold 3/4 inch thick solid wood picture frame offers a light, elegant look surrounding the artwork. 14x16; full dimensions 15 1/2 x 17 1/2.
From paper to frame, this art piece is 100% made in America.